The first 10 rounds of the 2021 MLB Draft have seen 312 names called, but two current Pilots who could potentially join those select few on Tuesday are Marcus Olivarez and Elijah Lambros.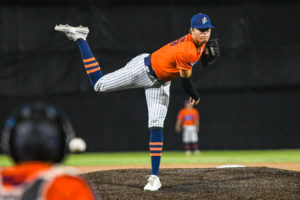 Marcus Olivarez
What he's got going for him:  He's a flamethrower
From the first time Olivarez toed the slab for the Pilots in 2020 to now, it was evident this kid was special.
For the past two years, the Lamar Cardinal has sported one of the hardest fastballs in all of the Coastal Plain League, consistently living in the 93- to 95-mph range.
The right-hander has anchored the back end of the Pilots' bullpen, serving as a crutch that manager Hank Morgan can turn to for outs late in a game.
His two-pitch repertoire — a plus fastball coupled with a good breaking ball — screams modern-day Major-League reliever, standing out in the eyes of scouts more so than his 6-foot-3, 200-pound frame.
Between 2020 to now, he has developed his natural ability into swing-and-miss stuff. Despite owning an impressive 10.03 strikeouts per nine innings, he surrendered 19 hits and 12 earned runs in 11 2/3 innings for a dismal 9.26 ERA.
This season, however, in six innings, he boasts a 1.50 ERA while striking out nine opposing hitters for a 13.50 strikeouts-per-nine clip.
His fastball has proven effective so far in 2021, but there's one aspect of his game that could limit his progression to the big leagues.
Where improvement is needed: Staying under control
Olivarez's stuff is unmatched for Coastal Plain League hitters and that has gotten him by in his 2021 innings.
However, he has shown vulnerability on the bump when he tries to overthrow his fastball.
Often it sails high which can prove good in pitcher-friendly counts to change the eye level, but Olivarez helps the hitter early in at-bats by doing so.
In the righty's second outing of the season on June 14, the Pilots were clinging to a 2-0 lead in the ninth inning and Morgan turned to Olivarez to nail down the victory.
Things got a little dicey when the Columbus, Texas, native walked three of the first four hitters before surrendering a sacrifice fly that was a few feet from sailing over the right-field wall for a go-ahead ninth-inning grand slam.
Olivarez worked out of the trouble to preserve Peninsula's 2-1 victory, but the close call has been indicative of his season thus far.
His five walks in six innings has contributed to a 7.50 walks per nine innings — the third-highest mark on the team behind right-handers Clayton Gilmore and Nic Psimas.
In the professional ranks, pitching coaches will be able to develop his breaking ball, add a third pitch and add miles per hour to his heater.
One valuable thing that can't be taught in pitching, however, is command, and, if Olivarez wants to succeed in the bigs, that's one aspect of his game he needs to clean up.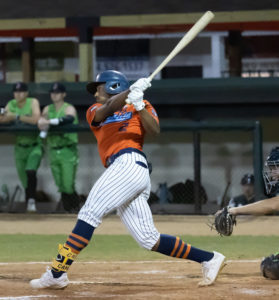 Elijah Lambros
What he's got going for him: Toolsy player
Scouts look for a player with the desired five tools: foot speed, arm strength, fielding ability, hitting and hitting with power. That is Elijah Lambros.
The Fredericksburg Christian School 2021 graduate has the raw talent to play at the next level, graded a 9.5 out of 10 on his Perfect Game player profile, which is between what they consider a "top 10 round pick" and a "very high draft pick."
He is ranked as the No. 7 prospect and No. 1 outfielder in Virginia's high school class of 2021, committing to play college baseball at South Carolina.
In a June 29 exhibition against Edenton, Lambros finished 4-for-5 — by far his best night at the plate this summer as his playing time has been down due to a lack of production.
Lambros has shown a keen eye at the plate, drawing three walks to help out his respectable .333 on-base percentage.
One aspect of his offensive game that isn't respected is his contact rate, striking out in 15.2% of his 33 plate appearances — the fourth-lowest rate on the team and 8.5% lower than the MLB average.
He has dazzled in his limited innings in the field, displaying professional range out in right and centerfield. His impressive arm strength was put on display in a Perfect Game event where his outfield velocity was clocked at 91 mph.
The Fredericksburg, Virginia, native has gone 2-for-3 in stolen bases in 2021 for the Pilots — a testament 6.56-second 60-yard dash time.
Where improvement is needed: Adjusting at the dish
Lambros has shown glimpses in batting practice and in the exhibition that he has the ability to jolt the baseball, shooting balls into the alleys of War Memorial Stadium.
The only issue for the right-handed hitter is translating that to game speed.
His entire spring season he was facing high-school level pitching, which is a significant change of pace when compared to Coastal Plain League hurlers.
Not only are the pitches faster, but breaking ball movement coming from Division I talent is no easy shift, causing some discomfort in the box for Lambros who is hitting just .241 in 29 at-bats on the season.
The potential draft pick's work ethic is next to none, though. He arrives at War Memorial Stadium early and stays late after games to hit in Peninsula's indoor facility, expressing the first-one-in, last-one-out mentality that is needed for success at the next level.
Once the 18-year-old works with professional hitting coaches on a day-to-day basis, only time will tell his potential.
Whether the two will be picked has yet to be seen, but they both have the potential to be drafted by a major league club Tuesday. Rounds 11-20 of the 2021 MLB Draft will begin at noon and will be available to follow along solely on MLB.com.